A KEEP Toolkit Case Study: Promoting Use of MERLOT Learning Objects
by Sharing Authors' and Users' Pedagogical Knowledge and Experience


The Knowledge Media Laboratory
The Carnegie Foundation for the Advancement of Teaching
Abstract
In a pilot effort between Carnegie Foundation and MERLOT, selected authors and users of online learning resources created succinct and engaging online representations, called "snapshots", that reflect on their pedagogy as well as provide potential users with guidance on how they might adopt the materials for their own use.
MERLOT, established in 1997, is an international cooperative that provides the academic community of teachers, students, librarians, technology staff, and administrators with an online community library where they can freely share high-quality educational resources that improve learning and teaching. MERLOT is a significant academic community that continues to expand everyday. There are currently over 22,000 registered members and 12,000 shared learning objects divided among 15 disciplines. MERLOT's strategic goal is to improve the effectiveness of teaching and learning by increasing the quality of peer reviewed online learning materials that can be easily incorporated into faculty-designed courses. MERLOT's vision is to be a premiere online community where faculty, staff, and students from around the world share their learning materials and pedagogy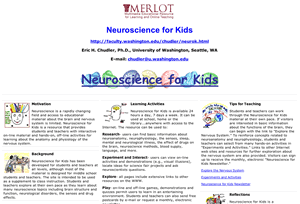 The Carnegie Foundation for the Advancement of Teaching shares this mission with MERLOT. The Carnegie Foundation invents new knowledge and develops tools and resources that foster positive change and enhanced teaching and learning in colleges and schools. Bridging the two organizations' efforts is the Foundation's Knowledge Media Laboratory that explores innovative ways to apply emerging technologies to transform the knowledge implicit in effective practice and educational transformation efforts into ideas, theories, and resources that can be shared and used widely to advance teaching and student learning.
"In addition to enabling educators and students to access the wealth of quality educational materials, it is critical to help them effectively share their experience and reflective ideas so that they can build collective knowledge to advance their teaching and learning," said Toru Iiyoshi, Carnegie Senior Scholar and Director of the Knowledge Media Laboratory (KML). "MERLOT is a vibrant, growing, academic community of educators that can transform innovative practices into widely deployed practices, and we are delighted to share with them the educational tools and resources being developed at the KML to further advance their important work."
The value of open sharing of knowledge, work, and evaluations of the teaching and learning enterprise is a cornerstone of The Carnegie Foundation and MERLOT collaboration.
The Carnegie KML and MERLOT recognized their common goals and formed a collaboration to further advance the knowledge sharing and peer review capabilities of MERLOT using the KEEP Toolkit, a web-based open source application which is designed to enable faculty and students to: 1) identify and select materials and artifacts that reflect all dimensions of their teaching and learning; 2) prompt and deepen their analyses and reflections; and 3) organize these materials and reflections and share them as meaningful and engaging representations efficiently and effectively. "Guided and shared reflective practices are hallmarks of productive professional development for teachers. Integrating the Carnegie Foundation's expertise, tools, and online resources with MERLOT's community services will enable teachers to put their plans for innovations into practice easily and effectively," added Gerry Hanley, executive director of MERLOT. "The expertise that the Carnegie Foundation brings to the MERLOT community is a great benefit and exemplifies how cooperation between higher education organizations can rapidly and effectively provide the shared services we all need."
The KEEP Toolkit is being integrated into MERLOT to address two main issues. At the moment, MERLOT provides users with information about each online resource through its peer review, assignments, user comments and personal collections features. These features however, tend to be more context free and focused on their potential uses. A challenge for members of the MERLOT community, specifically users wishing to use one of the learning objects available, is to gain access the author's knowledge and experience in designing and using the materials as well as being able to share their challenges and successes in using the learning object. With these two features provided, members of the MERLOT community would be better equipped to learn from each other's work, continue improving these learning objects and build on each other's pedagogical innovations. The pilot effort between the KML and MERLOT hopes to tackle these challenges using the KEEP Toolkit.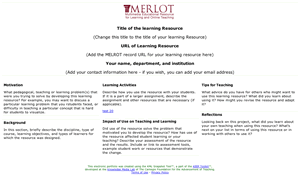 The MERLOT Awards Program for Exemplary Online Learning Resources recognizes and promotes outstanding online resources designed to enhance teaching and learning and honors the authors and developers of these resources for their contributions to the academic community by conferring its MERLOT Classics and Editors' Choice Awards. Selected winners of the Classics and Editors' Choice Awards, and other highly rated authors, used the KEEP Toolkit to tell their "story" about how and why they did what they did. The author snapshots were created from a template that was designed with specific guiding questions to communicate the author's "story". The snapshots are guided reflections where authors communicate to others why the learning objects were developed, how they were used in teaching, and what the impact of their use had on student learning or their own teaching. The snapshot authors also reflect on what they learned through using these learning objects as well as provide potential users with guidance on how they might adopt the materials for their own use. By providing the reader with a rich contextual description of the resource's use in developing a course or class curriculum and learning activities, the snapshots also provide a potential user of a learning object with valuable information about how a resource might be best used, or specific pitfalls to avoid.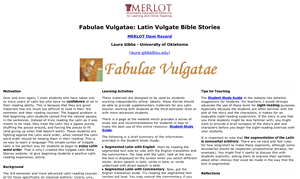 "For the types of material I created, this was really ideal. If you have a complex object, it's very helpful to try and distill out in your mind, what are the most important aspects of the website that people should eventually learn about. Having the snapshot was a way for me to stand back and talk about it in a very different way than I do at the website itself and to think about why I put this together as a teacher and how other teachers can use it," said Laura Gibbs, author of several snapshots, after using the KEEP Toolkit to represent one of her learning objects.
Additionally, a template for MERLOT users has been developed to allow them to share their experiences with the learning objects and provide innovative ideas and valuable suggestions for using these materials; so creating a community of users that will collectively improve both the quality of MERLOT resources and teaching and learning worldwide.
For example, James Rutledge, a Mathematics professor at St. Petersburg College, created a MERLOT user snapshot to document his efforts and experience in using an online learning material "Exploration of Fibonacci Numbers in Nature and the Arts" (developed by Ron Knott at University of Surrey, UK). In the snapshot, he described that his primary incentive for using this particular material with students in his class was to "refresh and renew their appreciation of math by helping them see the beauty, utility and pervasiveness of math in daily life." In order to share evidence of effective learning, his snapshot includes a number of student comments that clearly attested that the use of this material dramatically increased their interest in learning the subject and, consequently, deepened their understanding.

| | | |
| --- | --- | --- |
| | | |
| | | |

Based on these positive results of this pilot effort, it is hoped that the KEEP Toolkit will be added to the MERLOT services in the near future. This will more readily enable faculty and students to learn from personal success stories of instructors who have designed effective learning environments and used various teaching and learning materials in their innovative practices.


Authors' note: An early version of this case study was published on the KEEP Toolkit Case Studies Gallery. The Knowledge Media Laboratory would like to thank the MERLOT staff and members for their contributions to this joint pilot project.
Editor's Note: This article was contributed by Toru Iiyoshi of the Carnegie Foundation on behalf of the Knowledge Media Laboratory.
---


This work is licensed under a
Creative Commons Attribution-NonCommercial-ShareAlike 2.5 License.